Sample Vision Application #4:
2D Matrix Code Label Verification System
| | |
| --- | --- |
| Location : | USA |
| Inspection Lines : | 6 |
| Materials Handling: | Conveyor belt and air blow off for bad part removal |
| Key Inspection Parameters: | Presence and verification of 2D matrix codes on both the front and back labels of the product, label skew |
Description of Process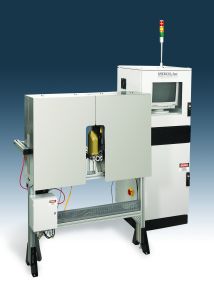 This label verification system confirms that the correct product labels are placed on both sides of a container traveling down a conveyor belt. To begin, an operator selects what container is running from a Visual Basic application running on a PC that houses the Acuity VisionScape board.
Two cameras mounted on either side of the conveyor snap pictures of the front and back of the containers, and the images are sent to an Acuity VisionScape vision processor board installed in a PC sitting next to the line.
The VisionScape vision program reads the bottle and the Visual Basic application receives the result of the inspection. If the front and back matrix values don't match what the system expected to find, or one of the labels is askew, the bottle is blown off the conveyor.
Configuration
| | |
| --- | --- |
| Vision Processor: | Acuity Visionscape |
| Inspection Lines: | 6 |
| Cameras Per Line: | 2 |
Sample Vision Applications